COVID-19 pandemic has dramatically changed the way we live, work, travel, enjoy.
Because of this new situation, we have developed an action plan for the prevention of the occurrence and for the effective management of suspected cases, to limit spread to staff and guests.
We have appointed a person of our management as a coordinator, to supervise its implementation.
Our action plan complies with the National Public Health Organization guidelines , the Ministry of Tourism special health protocols and the circulars of the Ministry of Health.
We communicate the measures and requirements of our plan to all internal and external bodies/partners and stakeholders and we have updated our property's web page about our safety and hygiene policy with the increased precautionary measures we have taken to protect the health, safety and well-being of our guests and our employees.
These measures include:
General
We prompt our guests to follow the measures advised from the World Health Organization to protect themselves and others and prevent the spread of COVID-19:
Wash hands frequently with soap and water for at least 30 seconds. Soap kills the virus that causes COVID-19. Use of gloves should not replace hand washing.
Use of hand sanitizer with at least 70% alcohol, if soap and water are not available.
Avoid unnecessary hand contact.
Avoid touching eyes, mouth and nose with hands.
Cover mouth and nose with a bent elbow or tissue when coughing or sneezing. Dispose of used tissues immediately and safely.
Wear a properly fitted mask when physical distancing is not possible and in poorly ventilated settings.
Maintain a physical distance of at least 2m away from others.
Avoid crowds.
Staff, guests, partners, suppliers and any other person who enters the indoor areas of our property have to follow the health and safety preventive measures (use of a mask, physical distance of at least 2m away from other people, avoidance of shaking hands, covering coughs and sneezes)
Signs have been posted on the corridors walls to remind mask face covering, hand washing and maintaining physical distance of at least 2m away from others.
In compliance with the special health protocols of the Ministry of Tourism for the protection of public health and in accordance with the General Data Protection Regulation (GDPR), concerning the protection of personal data, the property management keeps a COVID-19 incident registration book and also keeps a record of staff members and all guests staying on the property, such as first name, last name, nationality, date of arrival and departure and contact details (address, telephone, e-mail), in order to be able to communicate with close contacts of any COVID-19 case, that may be subsequently identified.
Staff
Every member of the management and our staff has been certified for the attendance of an educational course by the University of Crete, for the COVID-19 protection and preventive measures in tourist accommodation, which is mandatory for the safe and legal operation of every tourist business.
Every employee maintains the necessary hygiene measures to prevent the transmission of the Coronavirus (diligent and regular hand washing, wearing personal protective equipment where required, which is sealed in plastic bags and deposited of in a closed bin after use, keeping physical distance of at least 2m away from guests and other staff, avoidance of shaking hands, keeping unwashed hands away from the face, covering coughs and sneezes and generally personal and respiratory hygiene) in all work areas and hotel premises.
Any employee at the hotel with symptoms related to COVID-19 stays at home and returns to work only if, or when the test is negative. Every morning, all members of the staff and the management check their temperature, as part of their individual responsibility. If a staff member comes into contact with a case, he/she must report it immediately to our coordinator and leave from work.
The management supplies staff with the appropriate Personal Protective Equipment and ensures continued stock adequacy.
All Hotel employees do rapid tests twice per week.
Accommodation services
Reception
All reception staff members have been vaccinated.
Staff has received advanced training in order to comply with protective measures against COVID-19 by the Hellenic Ministry of Health and is able to recognize customer symptoms and report them immediately to the coordinator who is responsible for the implementation of the suspicious case management plan.
We apply regular cleaning and disinfection of Reception area and desk surfaces.
In order to maintain spacing, we have implemented an appropriate furniture layout at the reception and have added floor marking for keeping a distance of 2 metres in the waiting area. We try to offer fast and secure service to reduce waiting time and avoid overcrowding during check-in/check-out.
Pre check-in is available (with e-mail to info@seafrontoldtown.com), to avoid the full check in procedure.
The period between check-out and check-in time (check-out until 12:00 noon and check-in from 2:00 pm) has been extended, to ensure that between different guests the room is thoroughly cleaned and disinfected and that there will be sufficient natural ventilation.
Alcohol- based hand sanitizer is available at the reception desk for use by the guests.
The use of contactless payment options and sending invoices via e-mail are available. Hand disinfection is indicated after exchanging objects (passports, room key-cards, pens, money, credit cards etc.).
Room keys and TV and AC controls will be disinfected after every departure inside the UV-C Sterilizer box at the reception.
Special equipment (medical kit) such as disposable masks and gloves, antiseptics, cleaning wipes, apron, long-sleeved robe, laser thermometer, is available at the reception in case of the occurrence of an incident.
In compliance with the health protocols, visitors of guests and non-residents need to register when visiting the hotel and are not allowed to enter the rooms.
The staff of the reception, when asked, will inform our guests about our health policy and the measures we have taken to deal with any incidents, about health services and pharmacies in our area and will provide our guests with personal protective equipment.
Housekeeping
We follow the cleaning and disinfection program according to the relative circular of the Ministry of Health.
For cleaning and disinfection in case of occurrence of a COVID-19 case, we apply the special instructions of the National Public Health Organization :
During cleaning, staff keeps the basic measures to prevent the transmission of the Coronavirus, does not smoke, eat, or drink and wears a disposable waterproof robe, gloves, mask and closed shoes.
The rooms are cleaned daily, if the guests agree, with very good room ventilation, with open windows and doors. After check-out, the room is thoroughly cleaned and then disinfected using appropriate disinfectant, applying extensive ventilation and with particular attention to items that are mostly used and touched, such as remote controls, A/C units and their filters, light switches, dispensers, door and furniture handles, kettles, safety boxes, furniture, luggage racks and garbage bins, toilet seats and flushes, shower controls, taps.
Common areas are cleaned and then disinfected three times a day with extensive ventilation and with particular attention to frequently touched surfaces, such as light switches, door handles and stair handrails. The common bathroom is cleaned, disinfected and ventilated, after every use.
Alcohol- based hand sanitizer is available in every room for guests and also in the common bathroom.
All multi-use info material and unnecessary decorative items have been removed from the room.
During the sorting of unclean linen, the cleaning staff uses the appropriate personal protective equipment (special disposable apron over the uniform, gloves and mask, avoiding face contact), in compliance with the circulars of the Ministry of Health.
Used linen, bed linen and towels are placed in special, closed, marked sacks for their transfer to the laundry service.
Unwashed and washed linen are kept in different areas.
Linen are washed by an external commercial laundry service, following all the required measures while delivered and washed.
Linen and towels are washed in hot cycles (70oC or more) with standard detergents.
Washed linen are carefully kept in good and clean condition, during storage or delivery to the rooms.
Management of a suspected case
One person of our management has been appointed as a coordinator, to ensure the implementation of the suspicious case management plan. Our employees also, have been given detailed instructions on how to respond promptly and report any suspicious case to the coordinator.
If a person staying at the hotel develops symptoms compatible with COVID-19 infection, the following shall apply:
Our coordinator is immediately informed. The coordinator will ensure that measures are implemented to isolate the patient in his/her room. The patient is given a surgical mask and a doctor is called to evaluate the incident.
During the time the patient is waiting to be examined by a doctor, staff shall be prevented from entering the patient's room unless there is an important reason to do so. If the need arises, a specific member of the accommodation staff is exclusively involved with the possible case, applying personal protection measures (surgical mask, gloves, robe).
The doctor enters the room of the suspected case applying the personal protective equipment (mask of high respiratory protection, protective glasses, waterproof robes, gloves).
If the patient presents with a mild clinical picture, a nasopharyngeal sample is taken by the doctor for a rapid antigenic test and the patient remains in his room until the results are announced.

On a positive result, confirmed as a case of COVID-19, the patient wearing a surgical mask is transported to the quarantine hotel, applying the conditions of transport which are laid down by law.
If the result is negative the patient shall be treated at our premises, in accordance with the instructions of the attending doctor. At the discretion of the attending doctor, a repeat of the antigenic rapid test or molecular PCR test may be requested.

If the patient needs hospitalization, he/she is transferred via ambulance to the hospital, which has the standards to treat patients with COVID-19 infection.
Our coordinator immediately notifies the National Public Health Organization (EODY) by phoning to 210 5212054 or 1135, (24-hour operation), regarding the suspected/confirmed case.
After the patient leaves the room and is transferred to a a quarantine hotel or reference hospital, cleaning and disinfection follows, according to the the National Public Health Organization's guidelines. The recommended personal protective equipment for cleaning staff includes:

surgical mask
long-sleeved, disposable, waterproof (or water-repellent and additionally plastic apron)
disposable gloves
protective glasses

The correct and safe way of applying, removing and disposing of personal protective equipment, according to EODY guidelines, is followed. After cleaning, disinfecting and disposing of personal protective equipment, because the use of gloves is not a substitute for hand hygiene, hand hygiene is always applied: washing with soap and water for at least 30 seconds or using an antiseptic solution containing 70 % ethanol.
Used protective equipment is always disposed of in a closed, foot-operated bin.
If there is a patient's companion who wishes to stay with the patient to care for him/her (e.g. spouse), surgical masks are provided and the necessity of applying frequent hand hygiene (washing with soap and water or application of an alcohol-based antiseptic) is pointed out.
The contact details of the patient's relative are recorded, in case consent is required for operations and the patient cannot communicate.
Our hotel is certified with the Greek "Health First" Protocol, which demonstrates that our property complies with the health protocols. The certification is posted at our reception.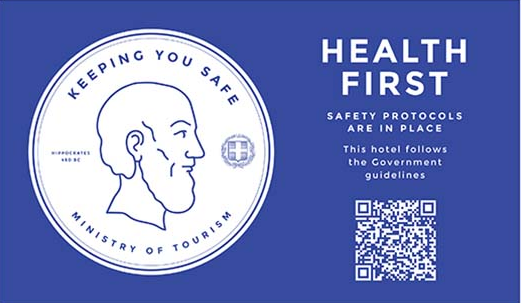 For all travelers to Greece, regardless of nationality, it is compulsory to fill in the electronic form PLF (Passenger Locator Form), at the official Greek Government website https://travel.gov.gr before the departure to Greece. The proof of completion of the PLF electronic form, which is automatically sent by e-mail to the passenger by the system, is considered a necessary travel document.
For information about travel restrictions and documentation required, please visit: